| | |
| --- | --- |
| News | |
---
A Message from the Venerable Dagpo Rinpoche – 8th April 2020
Superior of the Ganden Ling Congregation - 77250 Veneux-Les Sablons In this period of pandemic, my immense gratitude goes out to those who dedicate themselves selflessly to the service of the people, at all levels of society. Thank you...
read more
---
Changes due to the coronavirus outbreak
No group activities will be carried out until further notice in Veneux, either in Yiga Tcheudzine or in Guépèle Ling. Prayer, study courses and meditation activities are maintained but carried out each at home at the usual times. In Paris, following the reopening of the Forum104, activities will resume in September.
---
Monthly weekend session
The next weekend of study program will take place on September 19 and 20, 2020. The following ones on October 17 and 18, December 5 and 6, 2020, January 16 and 17, 2021. We will let you know as soon as possible whether or not we can meet in Veneux.
---
Guépèle Editions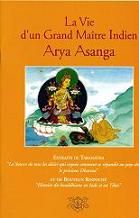 La Vie d'un Grand Maître Indien : Arya Asanga

According to Taranatha and Bouteun Rinpoche
Arya Asanga, one of two "pillars" of the Mahayana (Great Vehicle), made an extraordinary contribution to the development of Buddhism. Born in the fourth century AD in the part of India that has become known as Kashmir today, this philosopher shared the Madhyamika philosophical views of the first pillar, Nagarjuna. He is nevertheless the author of the founding treaties of a system other than his own: that of Buddhist "idealistic" philosophy, the cittamatra school. see more>
---
legal notices
| | |
| --- | --- |
| Host : OVH company's headquarters : 2 rue Kellermann - 59100 Roubaix - France https://www.ovh.com/fr/ | Legal representative of the association : Venerable Dagpo Rinpoche Jhampa Gyamtshog Veneux-Les Sablons - France CONTACT US |
Copyright © Institut Ganden Ling - Tous droits réservés