| | |
| --- | --- |
| News | |
---
Next Rinpoche teachings
Venerable Dagpo Rinpoche will teach : - in Anglet/IKTO on May, Friday 15, 7pm: Conference by Venerable Dagpo Rinpoche "How to prepare for meditation". Contact: +33 664 700 037 or +33 679 928 914 or kadamtcheulingocean@gmail.com - in Anglet/IKTO on May, Saturday and Sunday 16 and 17, teaching on "The Three Principle of the Path to Enlightenment" from Je Tsongkhapa. 9-12am and 3-5pm. Schedule, webcast and translation to be confirmed. Contact: cf. below. - in Bordeaux on May, Saturday and Sunday 23 and 24, Continuation of the teaching on 'Training the Mind in Seven Points' from Geshe Chekawa, Schedule, webcast and translation to be confirmed. Registration open only from March 1st. Information on the website: www.kadamtcheuling.org
---
Changes due to the coronavirus outbreak
No group activities will be carried out until further notice in Veneux, either in Yiga Tcheudzine or in Guépèle Ling. Prayer and meditation activities are maintained but carried out each at home at the usual times.
---
Monthly weekend session
Study Program initially scheduled for March 21 and 22, is postponed to the weekend of April 4 and 5. We will each stay at home and use the usual program "in the absence of Venerable Dagpo Rinpoche" (no teaching is planned at this time). For group sessions of the English study program, please refer to Rosemary's instructions. For the other sessions (Jorchoe, meditation, dedication), we will tell you quickly if we try to use the Zoom software to gather virtually and how. Following weekend session will be at Veneux-Les Sablons on May 2 and 3, June 6 and 7 juin, July 4 and 5 2020.
---
Guépèle Editions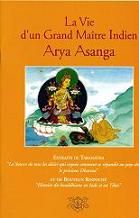 La Vie d'un Grand Maître Indien : Arya Asanga

According to Taranatha and Bouteun Rinpoche
Arya Asanga, one of two "pillars" of the Mahayana (Great Vehicle), made an extraordinary contribution to the development of Buddhism. Born in the fourth century AD in the part of India that has become known as Kashmir today, this philosopher shared the Madhyamika philosophical views of the first pillar, Nagarjuna. He is nevertheless the author of the founding treaties of a system other than his own: that of Buddhist "idealistic" philosophy, the cittamatra school. see more>
---
Copyright © Institut Ganden Ling