General Information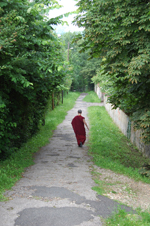 Reception
A welcoming committee is present in the hall of Yiga Tcheudzine temple during monthly sessions to introduce newcomers to the centre, provide them with the information they need and help them choose between the different activities offered.
Financial contribution and membership
For the institutes it is important to offer access to their activities free of charge. They therefore depend on attendants' generosity for their survival and operation. Donations and proceeds from membership fees help cover the organisational and maintenance costs.
To become a member or make a donation, please fill out the forms that are available at the reception desk during events.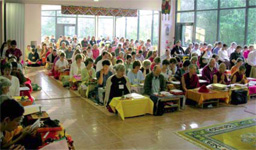 Offerings
One may bring offerings such as food and flowers to ceremonies and teachings.
Behaviour guidelines
The institutes are intended for retreat and contemplation. To favour concentration it is therefore preferable than one maintain a courteous, respectful attitude in all situations.
Out of respect for Buddhist precepts, you are asked to respect the written word by abstaining from putting books on the floor, walking over them etc.
Intoxicants such as tobacco and alcohol are not to be consumed on the premises.
The buildings are open only during the activities listed in the calendar.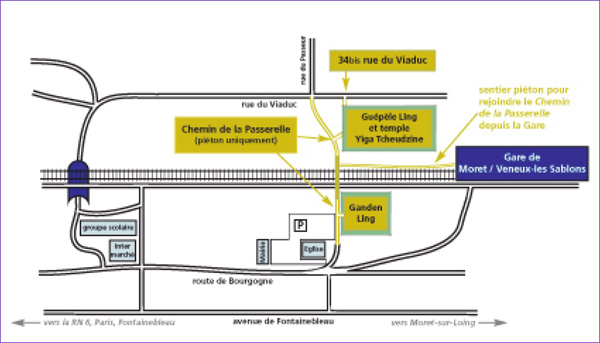 Address and contacts
Institut Ganden Ling, Institut Guépèle,
Entraide Franco-Tibétaine
Chemin de la Passerelle, 77250 Veneux-Les Sablons
Ph. +33 1 64 31 14 82
+33 1 60 70 39 81 (schedule)
Fax: +33 1 64 70 69 60
Email:
The institutes: guepele@gandenling.org
Entraide Franco-Tibétaine: eft.secretariat@free.fr
www.gandenling.org facebook.com
Activities in Paris at Le Forum,
104 rue de Vaugirard, 75006 Paris, Metro Montparnasse or Saint-Placide
Tuesday evenings 6:45–8:15 pm, see calendar
Access from Paris
By train:
Moret-sur-Loing / Veneux-Les Sablons Train Station (SNCF), approximately 45 minutes from the Gare de Lyon.
Exit via the footpath from platform 1, track 1L, take the footbridge over the train tracks. The institutes are located on either side of the tracks.
By car:
Take Autoroute A6 towards Lyon and get off at the Fontainebleau exit. At the Obélisque roundabout at Fontainebleau take RN6 towards Montereau-Sens and then the Veneux-les-Sablons/Moret-sur-Loing exit. The institutes are located on either side of the railway tracks.
---
Copyright © Institut Ganden Ling