Next Venerable Dagpo Rinpoche's teachings
Venerable Dagpo Rinpoche will teach :
- in Shedrub Choekhorling Monastery (Mount Salève) on "The Heart Sutra " in the tradition of Gomang Khensour Ngawang Nyima Rinpoche (སྐོ་མང་མཁན་ཟུར་ངག་དབང་ཉིི་མ།) on Saturday 24 and Sunday 25 August 2019. This teaching will be translated into French, English and Russian. We will let you know as soon as possible if a webcast will be available. The teaching will be webcasted.
Practical information provided by Shedrub Choekhorling: "As the number of places in the Temple is limited and in order to prepare these days as well as possible, we ask you to register online on billetto:
inscription
We propose to participate in the costs of organising the weekend: different amounts of participation are available (0€-10€-20€-20€-50€) and are intended to cover exclusively the costs incurred for the organisation of this event (gas, electricity, insurance, etc.). The free participation of the teachings is always respected and any benefits will be devoted solely to the acquisition, printing of texts, and more generally the dissemination of the Buddha's teaching. The scheduled times are: 10:00 am to 12:00 pm and 3:00 pm to 5:00 pm for Saturday and Sunday. »
- Venerable Dagpo Rinpoche will give a public conference by the Tuesday 27 August 2019 19h - 21h, on the topic 'Nonviolence – towards others, towards yourself'. Address : Maison des Associations, rue des Savoises 15, 1205 Genève (Plainpalais area) More information, please contact : Lho Gyu Shertchine Ling, www.lhogyu.org, +41(0)79 648 83 31
---
Monthly weekend session
Next weekend session will be on July 6 and 7 2019 at Veneux-Les Sablons. Rinpoche will teach on Saturday only (see information below).
Next weekend sessions will be at Veneux-Les Sablons on September 14 and 15 or 21 and 22, November 16 and 17, December 21 and 22 2019, January 18 and 19 2020.
---
Guépèle Editions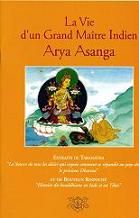 La Vie d'un Grand Maître Indien : Arya Asanga

According to Taranatha and Bouteun Rinpoche
Arya Asanga, one of two "pillars" of the Mahayana (Great Vehicle), made an extraordinary contribution to the development of Buddhism. Born in the fourth century AD in the part of India that has become known as Kashmir today, this philosopher shared the Madhyamika philosophical views of the first pillar, Nagarjuna. He is nevertheless the author of the founding treaties of a system other than his own: that of Buddhist "idealistic" philosophy, the cittamatra school. see more>
---
Copyright © Institut Ganden Ling