Next weekend sessions will be on May 27 and 28, July 1 and 2 2017 at Veneux-Les Sablons.
Weekend, March 18 and 19 mars 2017
the weekend will be devoted to the recitation of prayers in order to remove the obstacles of all the Institutes, the Centres and their members, Masters included, to allow everyone to gather purifications and accumulations and in general for the preservation of the Buddha's Teaching. You are all invited to participate, in Veneux, in your respective Centres or at home for those who will not be able to move. There will be no webcast. Attention : no train will travel this weekend from Gare de Lyon. Information about the alternate trains can be found.
Click to visualize :
Schedule for the trains
Prayers and schedules :
Saturday, March 18 will be devoted to prayers at Arya Tara, and Sunday, March 19 to the recitation of the Heart Sutra. Please find the details of the proposed program :
Saturday, March 18 :
- From 10:00 to 12:00 : Recitation of the Breeze of Faith to Arya Tara (Zephyr), including the supplication to the Lineage Masters, going as far as possible until the hour of the lunch break. - From 1:50 pm to 4:50 pm : continue recitation of the Zephyr from where we stopped, then once the recitation of the 7 x 21 praises has been done, continue with recitations of the mantra of Tara, OM TARE TUTARE TURE SOHA. When the attention diminishes insert a recitation of the 21 Praises to Tara then come back to the mantras. End the recitation of the Zephyr at the end of the day.
Sunday, March 19 :
- From 10:15 to 12:15 : Recitation of the Necklace of the Fortunate (Jorchö) until (including) The Foundation of All Excellence, including the Remembering the Master's kindness, and then continuously recite The Essence of the Perfection of Wisdom Sutras in Tibetan, together and aloud. - From 1:50 pm to 4:50 pm : start the session by taking refuge, then the Seven Limbed Prayer and the short Mandala offering, then resume the recitation of The Essence of the Perfection of Wisdom Sutras. At the end of the day finish the recitation of the Necklace of the Fortunate. It is possible for those who wish to recite the Sutra individually in their own language.
---
Next teaching by Venerable Dagpo Rinpoche
Rinpoche will have a conference in Avignon on Wednesday April 26 2017 on : How to daily pratice Dharma ? Contact : 334 902 530 24, iktgga@yahoo.fr Rinpoche will teach in the Drôme on April 29 and 30 2017 on Bodhisattva Ethics. On May 1 2017, it will be a Bodhiccitta ceremony. Contact : 334 755 352 58, iktlda26@gmail.com : registration required. Rinpoche will teach in Monaco (Beausoleil) : - On Friday, May 12 (7:00 pm) : Conference on the Perfection of Patience. - On Saturday, May 13 and Sunday, May 14 : teachings on the 5 Aspects of Enthusiasm Contact and information : infos@iktm.fr - http://www.iktm.fr/
---
Guépèle Editions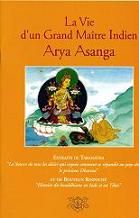 La Vie d'un Grand Maître Indien : Arya Asanga

According to Taranatha and Bouteun Rinpoche
Arya Asanga, one of two "pillars" of the Mahayana (Great Vehicle), made an extraordinary contribution to the development of Buddhism. Born in the fourth century AD in the part of India that has become known as Kashmir today, this philosopher shared the Madhyamika philosophical views of the first pillar, Nagarjuna. He is nevertheless the author of the founding treaties of a system other than his own: that of Buddhist "idealistic" philosophy, the cittamatra school. see more>
---
Copyright © Institut Ganden Ling