| | |
| --- | --- |
| News | |
---
Next Venerable Dagpo Rinpoche's teachings
Venerable Dagpo Rinpoche will teach : - Friday, January 25, 2019 at 7pm in Anglet-Biarritz (IKTO), conference of the Venerable Dagpo Rinpoche on "Relying on the requisites for meditative serenity". Contact: 06 79 92 89 14 or 06 20 33 78 28 or kadamtcheulingocean@gmail.com - in Anglet-Biarritz, Saturday 26 and Sunday 27, January 2019, from 9 to 12am and 3 to 5pm, teaching of the Venerable Dagpo Rinpoche on "The Three Principle of the Path to Enlightenment" from Je Tsongkhapa . Contact: cf. January 25th. The teaching should be webcasted in audio.
- in Bordeaux (IKTB), Saturday February 2 All day and Sunday February 3 in the afternoon: continuation of the teaching of Venerable Dagpo Rinpoche on 'The Seven Points of Mind Training' from Geshe Chekawa - Sunday morning: Long life ceremony for Rimpoche, Kadam Tcheuling Bordeaux's thirtieth anniversary and Losar. Information on the website: www.kadamtcheuling.org
information and link for registration
- In Hollande , March 9 and 10 teaching of Venerable Dagpo Rinpoche on 'Training the spirit in eight stances' from Langri Thangpa Dorjé Sénggé. Information : www.kadamcholing.nl/ kadamcholing@gmail.com
---
Monthly weekend session
Next weekend session will be on February 16 and 17 2019 at Veneux-Les Sablons. Following weekends will be on March 23 and 24, May 25 and 26, July 6 and 7 2019.
---
Guépèle Editions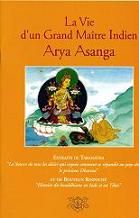 La Vie d'un Grand Maître Indien : Arya Asanga

According to Taranatha and Bouteun Rinpoche
Arya Asanga, one of two "pillars" of the Mahayana (Great Vehicle), made an extraordinary contribution to the development of Buddhism. Born in the fourth century AD in the part of India that has become known as Kashmir today, this philosopher shared the Madhyamika philosophical views of the first pillar, Nagarjuna. He is nevertheless the author of the founding treaties of a system other than his own: that of Buddhist "idealistic" philosophy, the cittamatra school. see more>
---
Copyright © Institut Ganden Ling