News
Monthly weekend session
Next weekend sessions will be on May 27 and 28, July 1 and 2 2017 at Veneux-Les Sablons.
---
Coming to Europe of two Geshes of the Dagpo Dratsang Monastery
We have the joy of welcoming in France Geshe Gyaltsen Sengee and Geshe Lobsang Tendar, two PhDs in Buddhist philosophy of the Dagpo Dratsang monastery in India.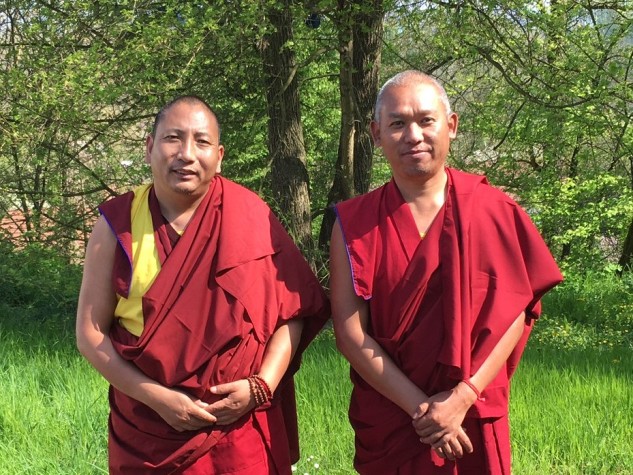 Between May and June, they will travel through France and will also go to Holland to meet the Buddhist centers that are under the spiritual authority of the Venerable Dagpo Rinpoche. They will start with the Drôme and Avignon at the beginning of May, then travel to Nantes mid-May, Veneux in late May, Bordeaux in early June and Holland in mid-June. You can refer to the sites of each of these centers for more information. click to contact the centers At Veneux Les Sablons, they will be with us during the monthly session of May, 27 and 28th and will intervene in particular : - Saturday from 2 pm to 4 pm : Lecture by Geshe Gyaltsen Sengee on the history of Dagpo Dratsang in connection with the lives of some great Masters. - Sunday from 2 pm to 4 pm : Questions / answers session where we can ask questions about the Dharma or their journey, and where they too can ask us, mainly to know us better and to better understand our life, Advantages and constraints in the West. The rest of the WE will be devoted to the the cursus session.
---
Guépèle Editions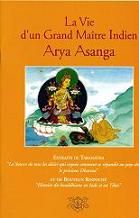 La Vie d'un Grand Maître Indien : Arya Asanga

According to Taranatha and Bouteun Rinpoche
Arya Asanga, one of two "pillars" of the Mahayana (Great Vehicle), made an extraordinary contribution to the development of Buddhism. Born in the fourth century AD in the part of India that has become known as Kashmir today, this philosopher shared the Madhyamika philosophical views of the first pillar, Nagarjuna. He is nevertheless the author of the founding treaties of a system other than his own: that of Buddhist "idealistic" philosophy, the cittamatra school. see more>
---
Copyright © Institut Ganden Ling